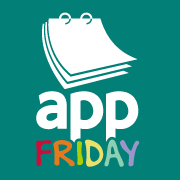 App Friday is a weekly promotion to highlight educational apps across the kids' educational app community. As of November 2012, a new site was built to support the promotion at http://www.appfriday.com.
To tune into the festivities each week, here is what you can do:
Questions about the program can be directed to the team at appfridaynews@gmail.com.