If a woman's goal is to be taken seriously, professionally, and equally, why do women in the workplace continue to highlight their bodies at the expense of their brains?
This thought preoccupied me while previewing the new reality show "Start Up: Silicon Valley". Curious about how the Bay Area would be portrayed on national television, I decided to watch the first episode. After seeing more underwear than business plans, I had to turn it off after 20 minutes, disheartened that our gender had let us down yet again.
We need more role models who care enough to offer advice to the twenty-somethings just starting out. We need more women in the workplace who focus less on being women, and more on being a colleague. We need more women who look in the mirror before heading to a work meeting, and ask themselves if the neckline or hemline or heel height will cause a distraction. Because it does. And it always will. It's the nature of the beast.
Taking my own advice about "caring enough to offer advice", here is a photo for any twenty-something who happens to be reading. If we study how Sandra Day O'Connor and Margaret Thatcher are represented in this photograph, what we see is leadership, expertise, and life stories fit for history books. Hopefully more of us can start aiming for the history books.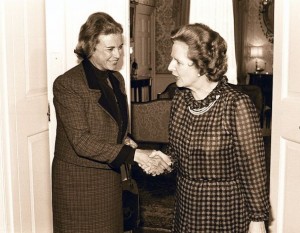 Photo Credit: San Francisco Chronicle article on Sandra Day O'Connor